The rising cost of fuel has become a big matter of concern these days. Adding up to this is the increasing amount of pollution in the city, all of which contributes to depleting the quality of air. Based on Department of Transport (England) 55 percent of UK emissions results from cars and taxis, while the remaining from coal burning as well as lorry exhaust. To deal with such situations, OPTI driverless taxi intends to create another mode of transport that not only reduces emissions but transports people within city environments. This project has been proposed for people commuting to London. The concept is pretty simple. This vehicle, acting as a taxi or bus, would have hire points at central bus as well as train stations. Lithium ion batteries located within the chassis floor is the main source of power for the vehicle. The shape of the vehicle is small as to accommodate for short voyages. The seating position has been designed to be upright instead of laid back to design a smaller vehicle.
Designer : Paul Piliste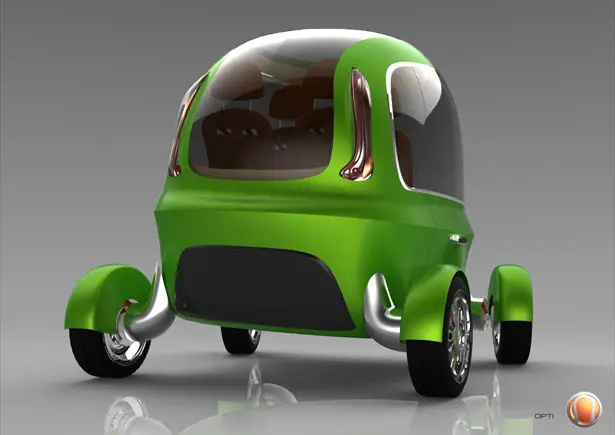 Another interesting feature of this vehicle is that, it is equipped with satellite navigation, proximity lasers, parking sensors as well as cameras, which make the OPTI, available 24 hours a day. The payment method appears to be via credit or debit card, generally verified using 3G. This purges robbery of the vehicle. Perhaps, the 3G is used to check the vehicles location for safety purpose. Even though OPTI driverless taxi is intended for 2025, but I hope that it arrives here sooner.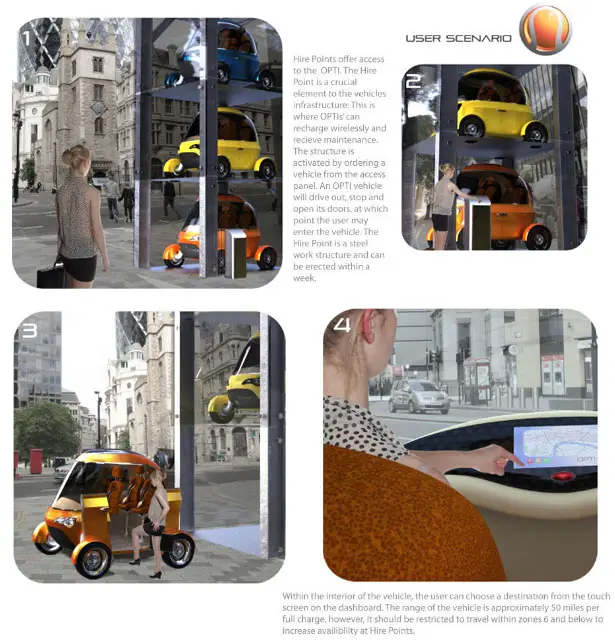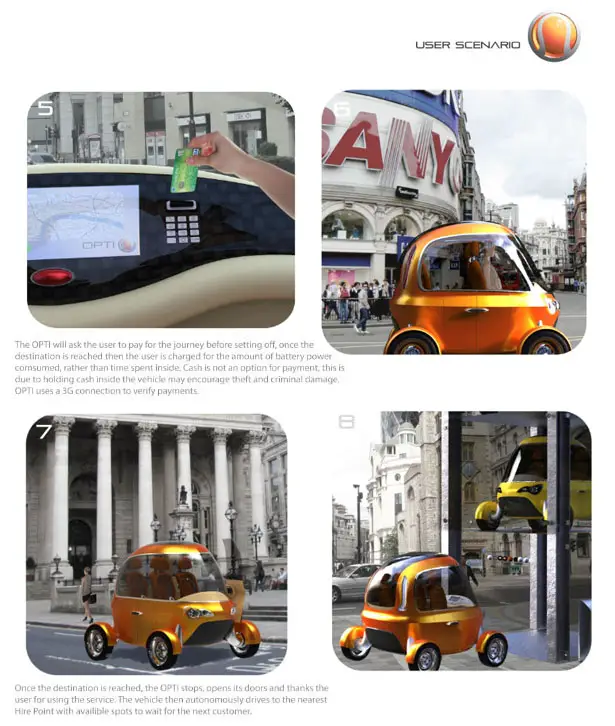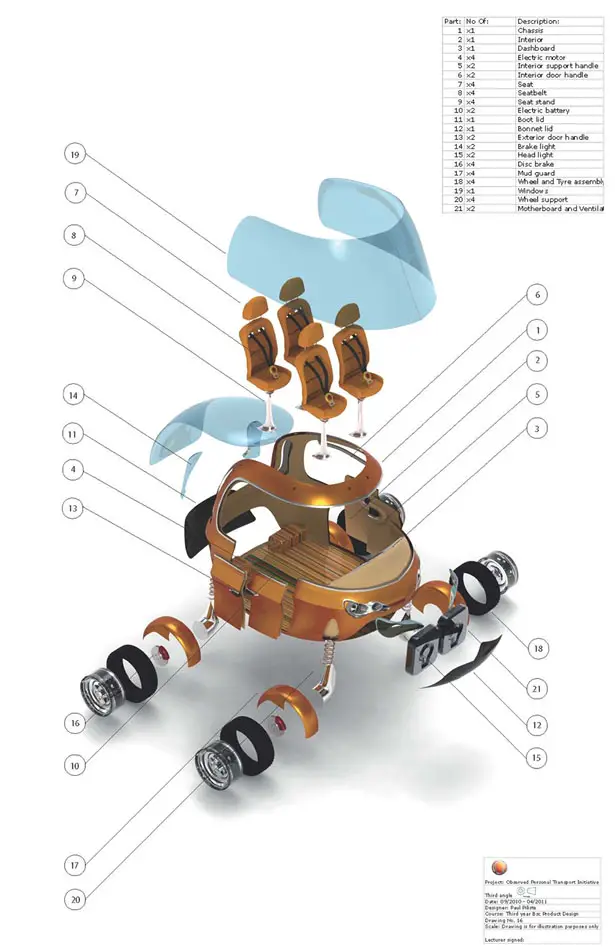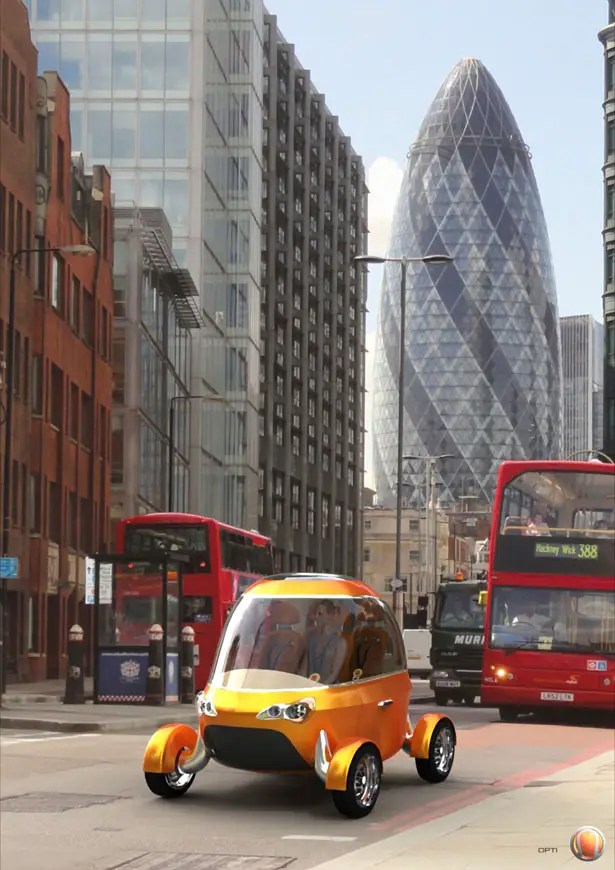 Tuvie has received this project from our 'Submit A Design' feature, where we welcome our readers to submit their design/concept for publication.
---
Eating objects is about creating an innovative interactive multi-sensory eating experience. It is certainly a design study of food, molecular gastronomy plus eating experiences. By employing the processes and techniques of molecular gastronomy, one can cook food in novel ways and also control the varying tastes, colors as well as textures of food so that it feels quite challenging and control peoples pre-conceptions towards food. This project employs a range of tools for users in order to interact with while constructing every food product. To augment the multi-sensory feature of the eating experience, the designer has also come up with a table that helps users explore more in depth. To enhance the eating experience, animations are projected from underneath that are triggered using recognition technology. The users are led through each dish, where they are encouraged to intermingle with one another and their food in novel ways. The series of tools are designed to be extremely minimal so that it doesn't over stimulate the user. Chopper has been used for detailing and its deluxe appeal adds a special element to the overall experience.
Designer : Ahmad Fakhry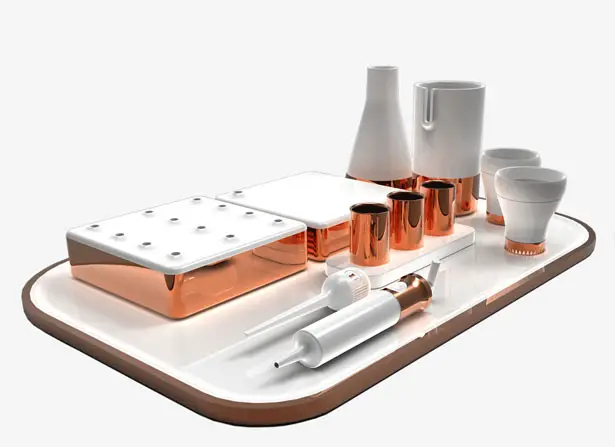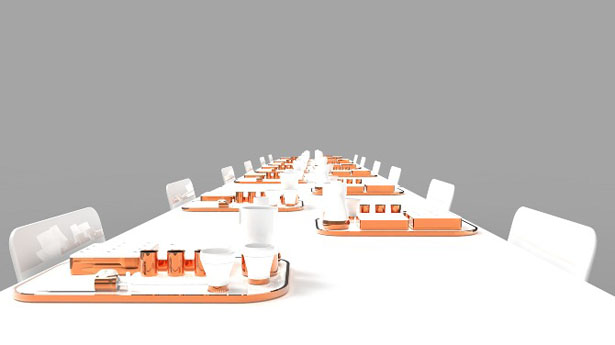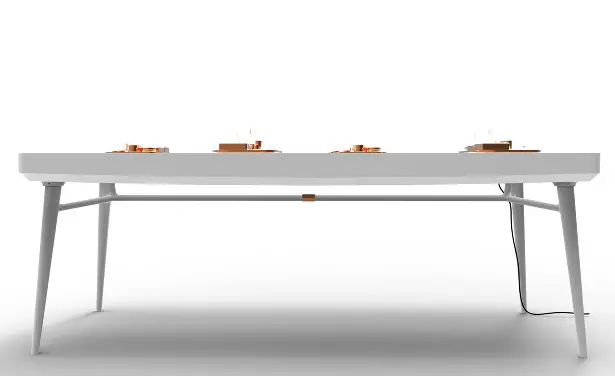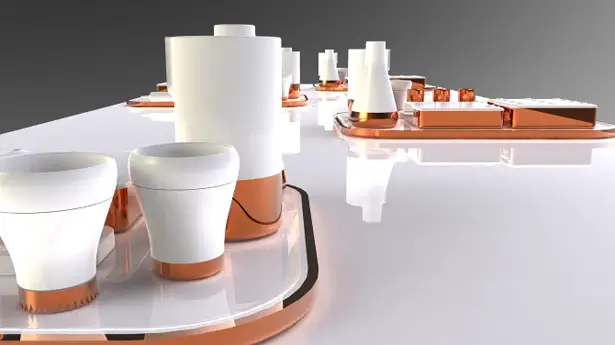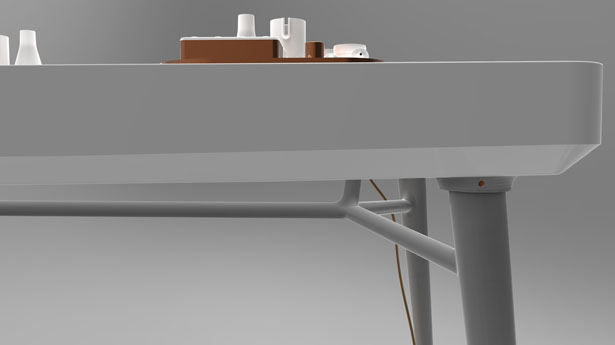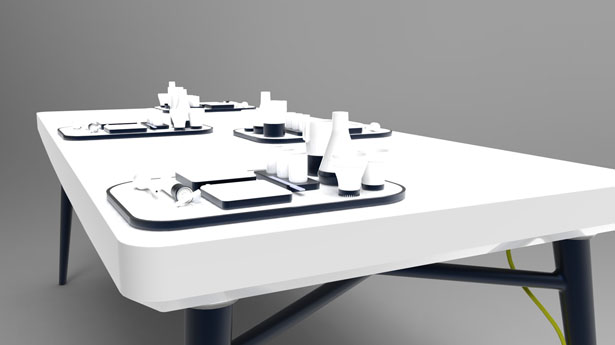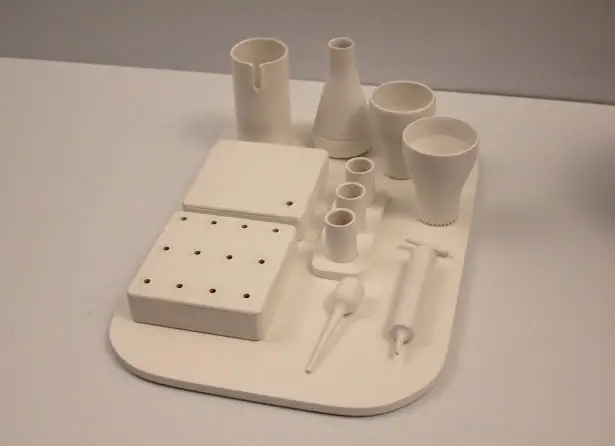 ---
The Breathing Partition concept provides a sense of comfort with its natural office partitions, helping to generate an enjoyable and creative office environment. The unused space of the upper portion of these partitions contains flower pots to give the room a natural touch. Moreover, plants help creating a pleasant and livelier office environment by humidification and air purification. This partition system are available in both single and double unit and can be used in a particular office whichever is appropriate. The concept comprises an automatic watering system which is able to notice the need of water to the plants.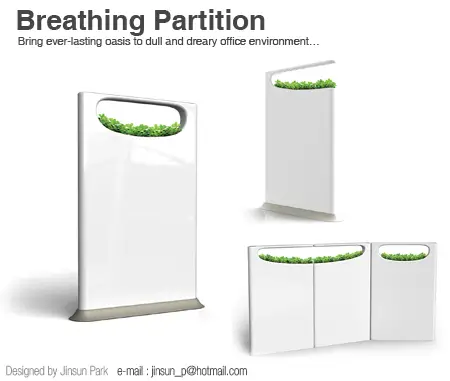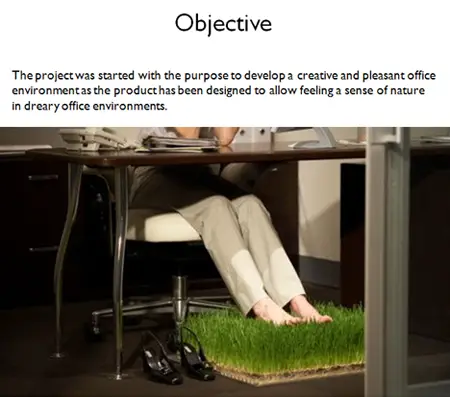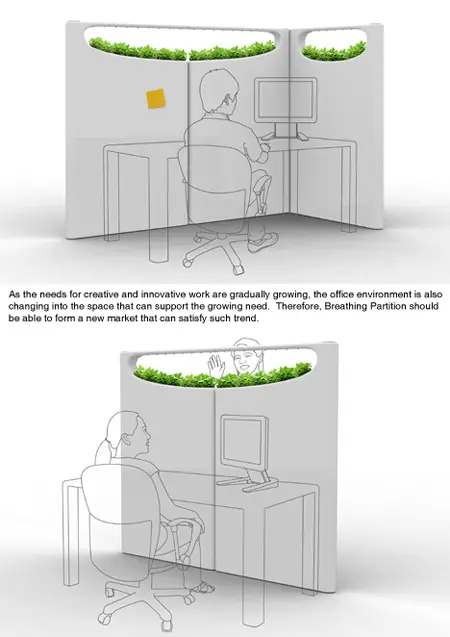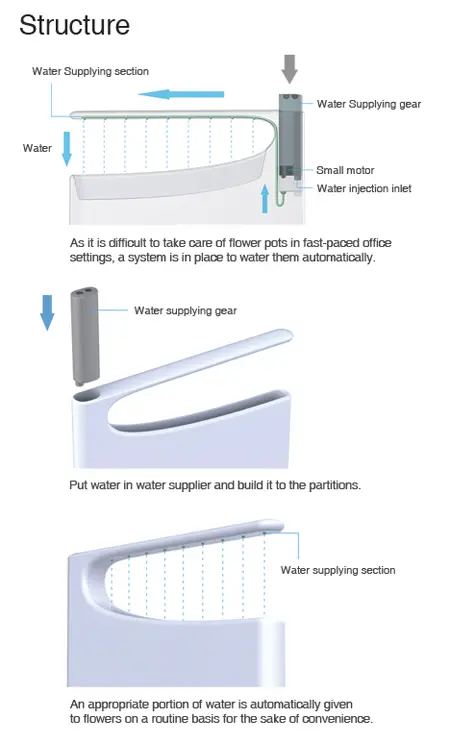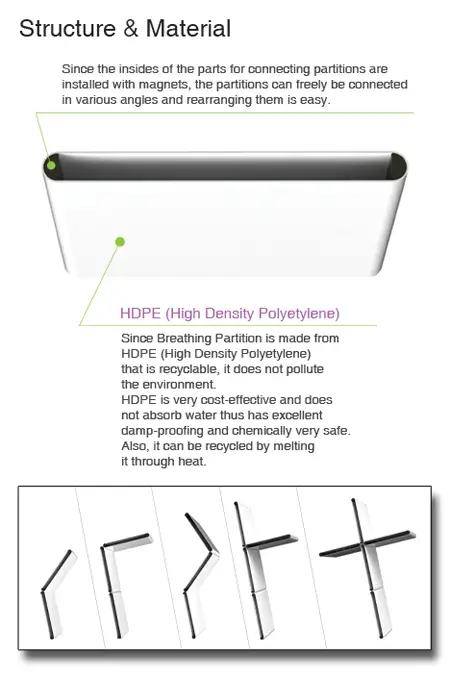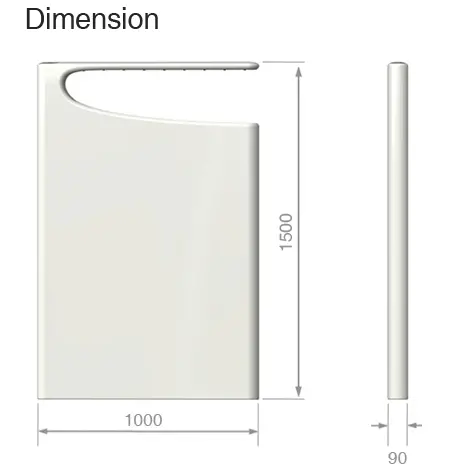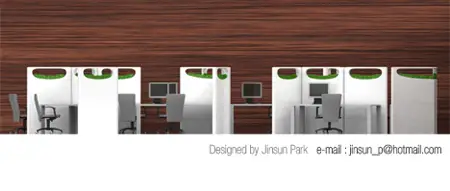 Designer : Jinsun Park and Seonkeun Park
---