We've seen many foldable e-scooter, it's great that some of them are finally available for the market such as Moveo, Trikelet, or Urb-E. Now, E.T Scooter has joined this market to bring you foldable electric scooter that folds in less than 5 seconds.
E.T was born out of intensive research, the weight and balance makes it an ideal transportation for urban city area. This premium scooter is built using premium quality aluminum for the body along with high quality parts, the battery is guaranteed to last at least 900 full cycle. It takes 2 hours (fast charge) to fully charge this scooter and you can reach up to 40km with a speed up to 35km/h. The foldable design makes it compact enough to be kept inside car's trunk.
From : E.T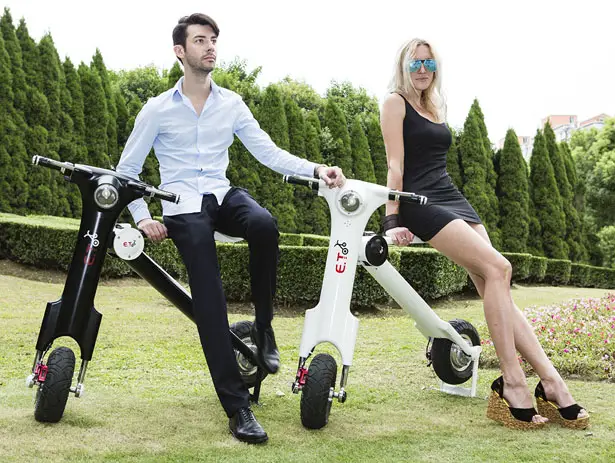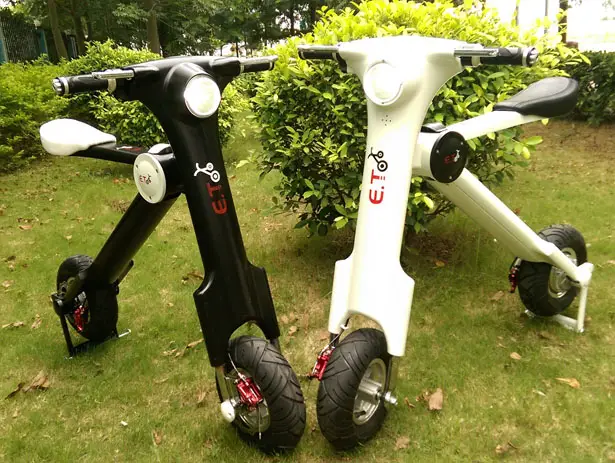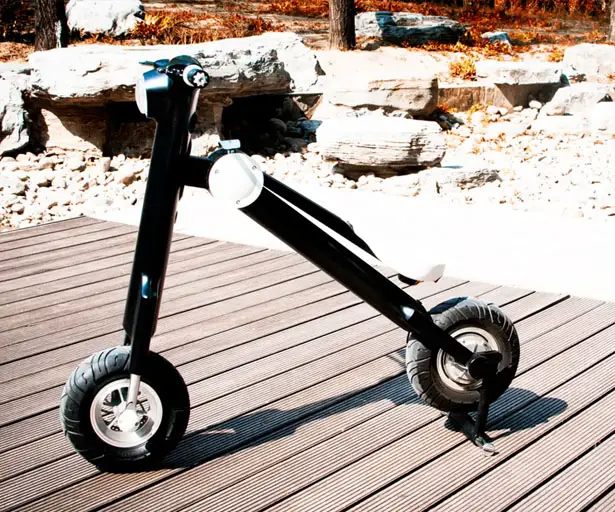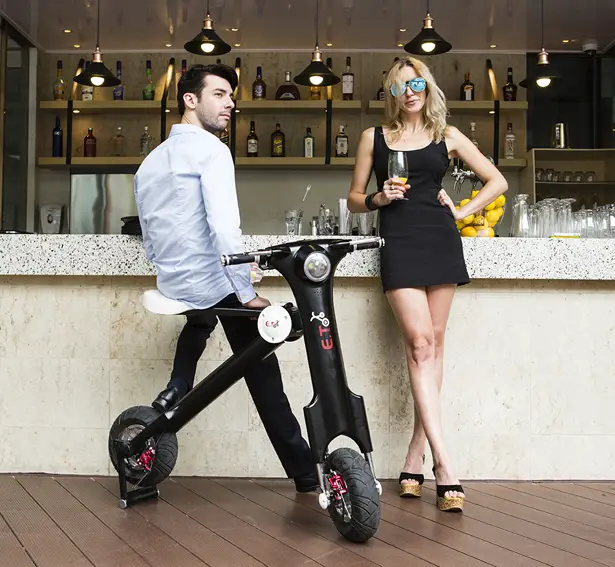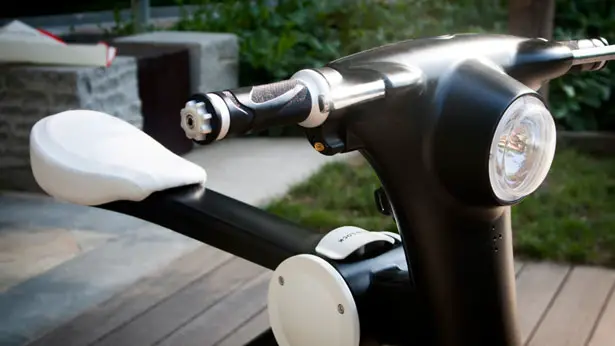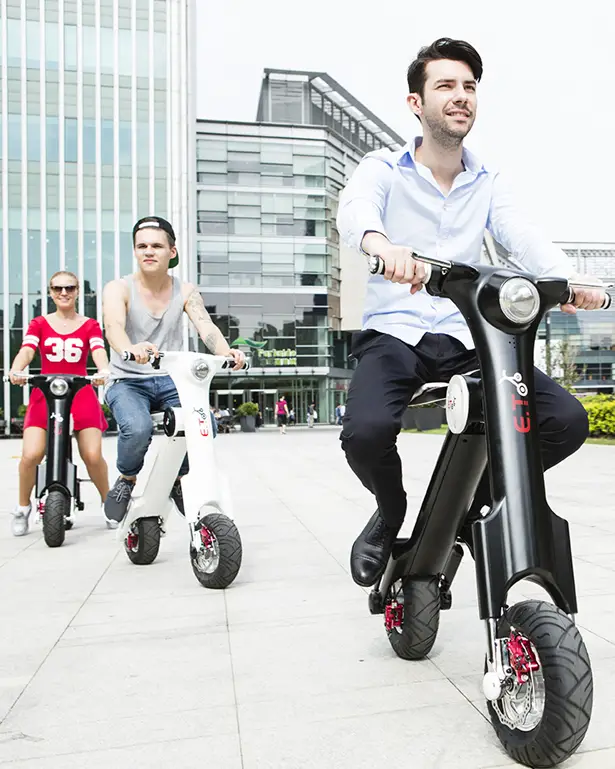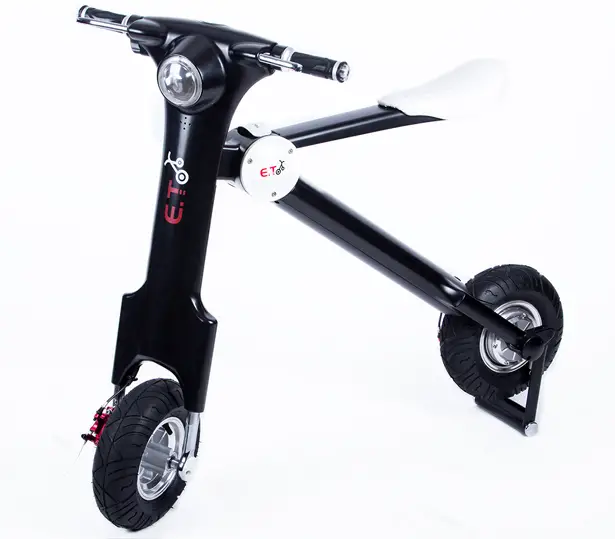 ---
Update: It's available for pre-order, you can get new updated version details from this page: Symetium Smartphone PC.
The Symetium is a no compromise phone focused on design symmetry and build quality/material with features such as the inbuilt android desktop UI that activates when the phone is docked, to the Sony Xmor RS sensor with Carl Zeiss lens and Xenon flash, the bottom notification light also acts as a gesture controlled menu button.
This concept phone features customized cyanogen mod operating system with focus on simplicity and design, another software feature is notifications, on normal android the notification bar often gets FILLED with icons of apps notifying you, my idea is to simply have it all in one icon, so if there were 10 notifications then it would show as a flag with the number 10 next too it or a bell or simply a number, not entirely decided yet.
RGB lit control notification orb, this is the little ring at the bottom, you swipe over it (left) to go back, you double tap it to open recent tasks you press it to go home or open the app drawer you hold it to go home while emptying recent apps, this orb should function as a tiny mousepad.
Designer : Jonathan Gustafsson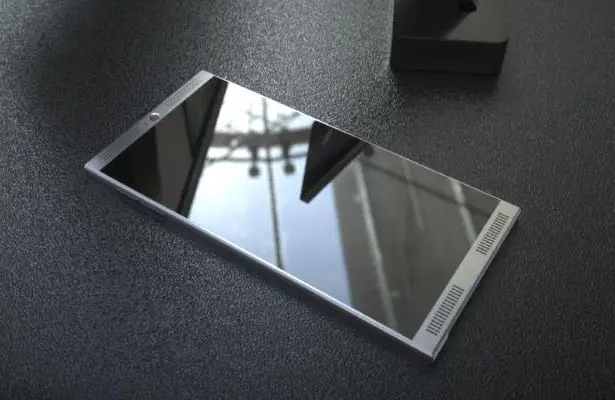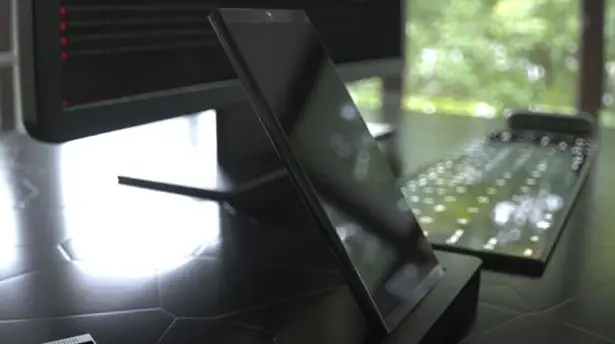 When in Desktop mode, it allows the phone to turn into a full fledged computer when docked wirelessly to a docking station that's connected to a monitor, keyboard and mouse. Its inbuilt super permission switch (root) and boot menu similar to a UEFI bios where you can monitor crucial information store up to 10 ROMs in a virtual environment etc to access tap the power button on boot inspired by the way you access a bios sort of.
When in Nighttime mode, this feature can be simple or more extensive, the simple approach is having the phone simply detect if it's been woken up after 6+ hours where the screen will be very dim and then slowly increase, the smarter approach is the phone detecting when it's night and waking up with a dim screen then depending on preference slowly increase in brightness.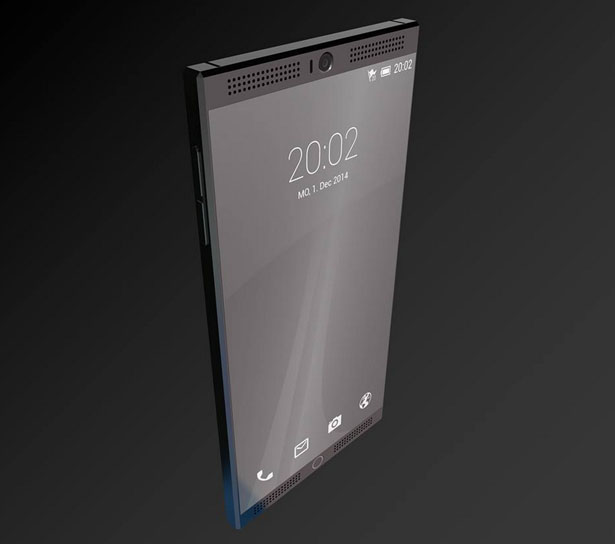 There's a dedicated GPS chip that runs along side the phone with it's own non removable battery, to control or turn off this chip you need to connect the phone to a computer and insert a password, estimated battery life is over a month and it will constantly track the phone upon the users request, there's no way to stop it without finding a way into the software, i came up with this because tracking can easily be turned off by turning off a phone or by wiping it, this way the phone will still be tracked even when it's off, this can both aid in retrieving the phone after various scenarios, it also makes it impossible to do anything with the phone if someone has gotten access too it, unless that someone takes it apart.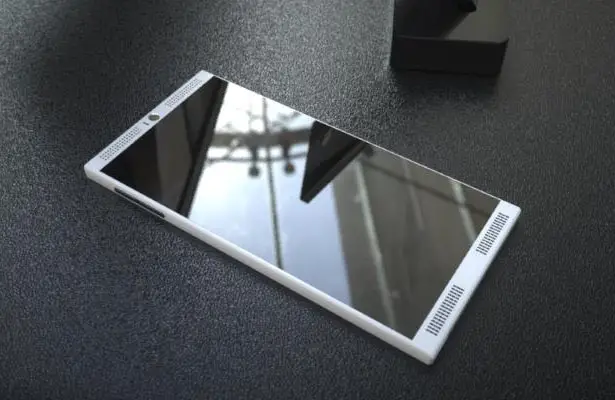 Symetium Specs
Tegra x1 64 bit or Snapdragon 810 processor
3 Gb of ram
128 Gb inbuilt storage space (expandable)
4500 mAh hot swappable battery through a slot loading mechanism at the bottom of the phone (small battery keeps it going, when the default battery is removed a timer will countdown on how much time you have)
24 Megapixel Sony Exmor RS sensor with either Sony G-lens or Carl Zeiss optics and 4k video recording with xenon flash
5 inch and 4.7 inch (two models) OLED 1080p panel with an extensive calibration menu for white balance (color temp) contrast presets etc
Double stereo frontfacing speakers with inbuilt amplifier (or 2 speaker)
I/P certification water and dust proofing
PVD coating for high protection against scratches
Full unibody metal body (idea titanium body) (plastic strips at the top and bottom of the phone for reception)
Tuvie has received "Symetium Concept Phone" project from our 'Submit A Design' feature, where we welcome our readers to submit their design/concept for publication.
---
After 2 years of careful planning and intense development, finally Lotus is ready to release its first motorcycle. Lotus Motorcycle C-01 is road ready motorbike that features bulky body, the world's first motorcycle that carries the legendary Lotus trademark, it is road ready for action. Designed by Daniel Simon and developed by Germany's Kodewa Performance Motorcycles and tuner Holzer Group, this prototype has earned a green light from Lotus to be produced. Yes, Lotus group doesn't design or engineer this motorbike, it's actually the result of collaboration between Kodewa, lead by Dr Colin Kolles and transportation design guru Daniel Simon.
Powered with V-twin engine, Lotus Motorcycle C-01 has a unique body design that integrates carbon fiber, titanium, and aerospace quality steel. Thanks to the team great motorsport experience, this concept boasts a unique appearance of high performance superbike.
Designer : Daniel Simon for Lotus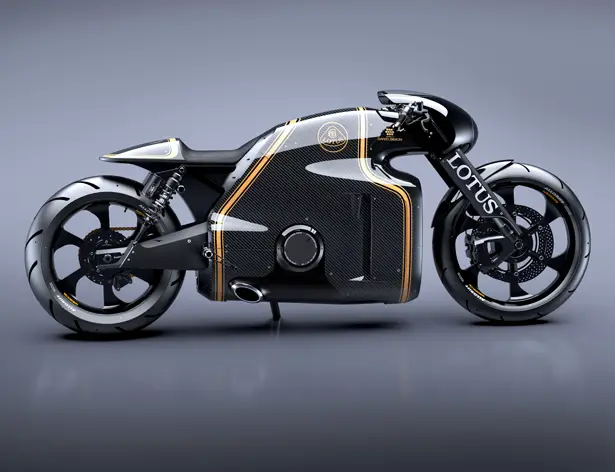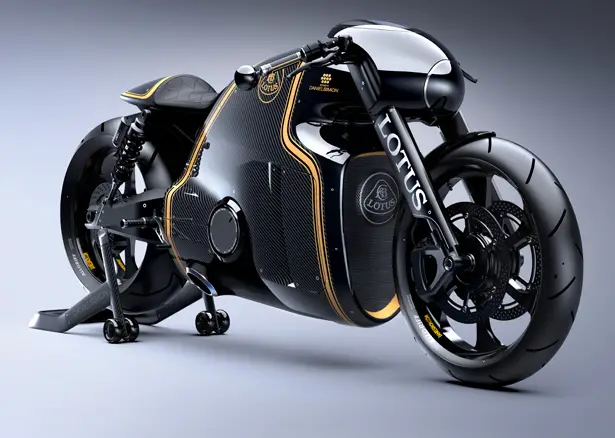 You can also customize this bike, the company provides a customization service which limited only by your imagination. This futuristic bike will be available for exclusive production of just 100 units, so, for all superbike collectors or Lotus brand fans, you need to order now to secure your Lotus motorbike.
The first idea came from Dr Colin Kolles, he wanted to create a bike that isn't just feel great to ride but also represent a beautiful piece of art in motion. The result is this true state of the art technology with jaw-dropping aesthetic. The balance between aggressive power and handling make the ride sensational, very impressive.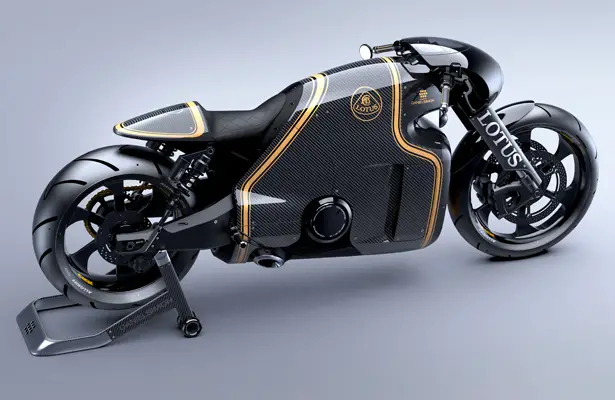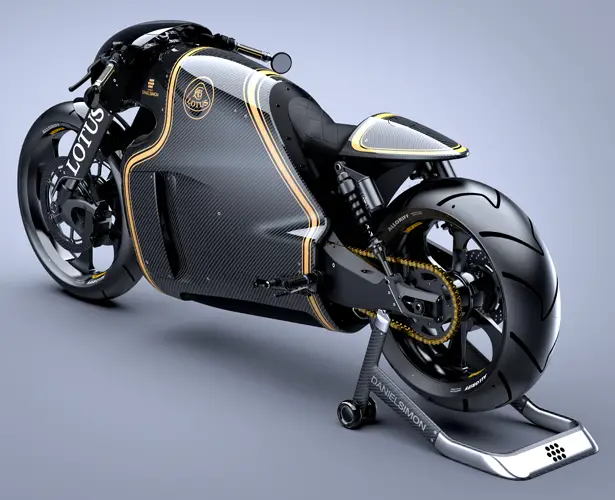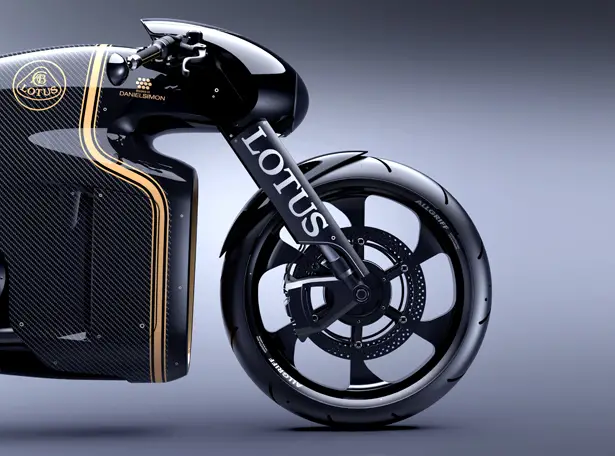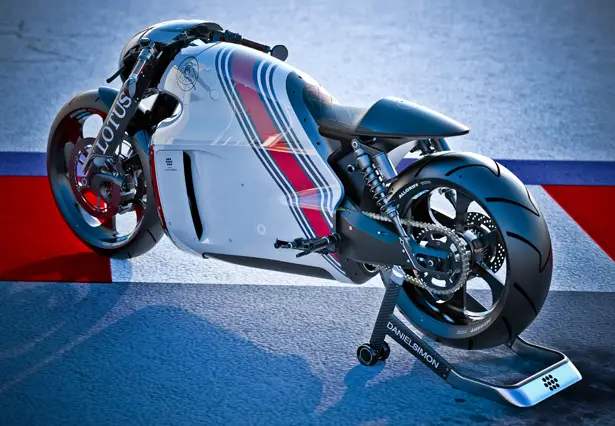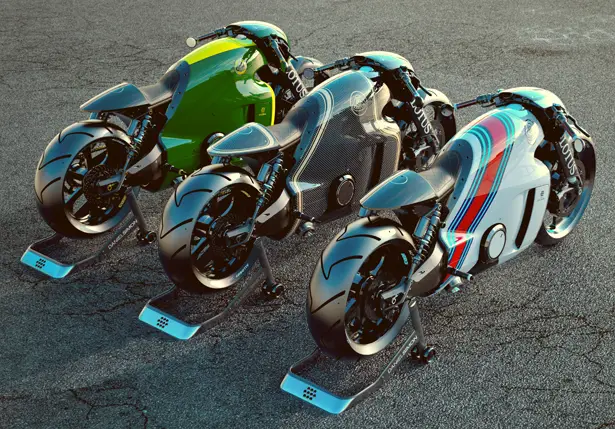 ENGINE
Construction: 2-cylinder 4-stroke engine, 75° V-style
Capacity: 1,195 cm³
Bore: 105 mm
Stroke: 69 mm
Power Approx: 200 HP
Transmission: 6-gear jaw-type shift transmission
Lubrication: Dry sump lubrication
Main shaft ratio: 40:76
Lay shaft ratio: 15:41
Cooling: Water cooling
Clutch: Hydraulic anti-hopping clutch
CHASSIS
Frame: Aero tech steel/Titanium/Carbon fibre frame
Fork: Upside down
Suspension strut: Twin suspension strut
Spring travel front: 80 mm
Spring travel rear: 70 mm
Brake system front: Twin brake disc, ø320mm, four piston calipers
Brake system rear: One brake disc, ø220mm, two piston calipers
---