Inspired by the pleasant childhood memories in her grandmother's kitchen, Fatemeh Bateni has designed MeMeNtiC Connected Pot. Cooking together with your loved ones, enjoying delicious food, the smell … all of these create beautiful memories over time. This special pot connects people who love cooking together, it connects you to famous chef in different countries where you can learn to cook special dish. You can also re-create your childhood dish by connecting this pot to your family recipes, downloading all the data that guides you through the cooking process by visual timeline on the body. Any information regarding weight, volume, and quality of the food can be transferred between these connected pots.
There's a big circle on top the pot that creates an emotional interaction between user and this cooking appliance. This circle lights up (white light) when the connected pan-pot is in the standby mode, during this mode, all interactive information is displayed on the lid of the pot-pan. When the circle turns to blue colored light, it means the food inside hasn't been cooked yet but it gently turns into orange-red color when your food is ready.
Designer : Fatemeh Bateni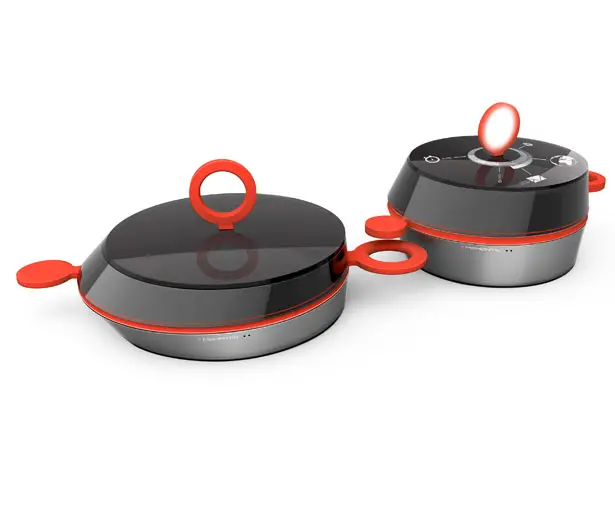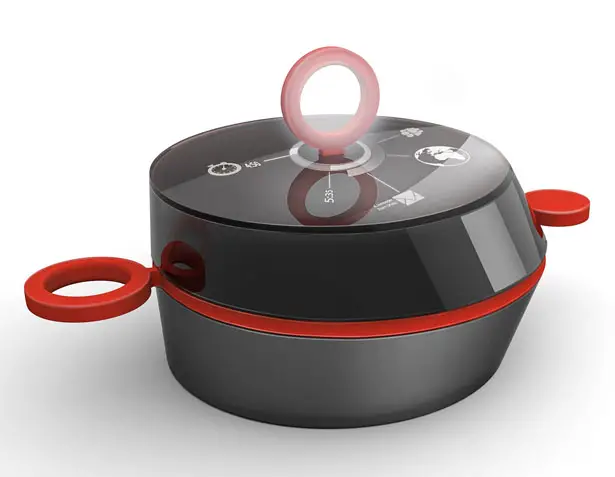 The ring shaped sensor at the bottom of the pot captures all information and transfers them to the other pots. The interface of the body illustrates visual timeline to guide user through out the cooking process. Inside the pot, you can also find light indicator that measures volumes of liquids when needed.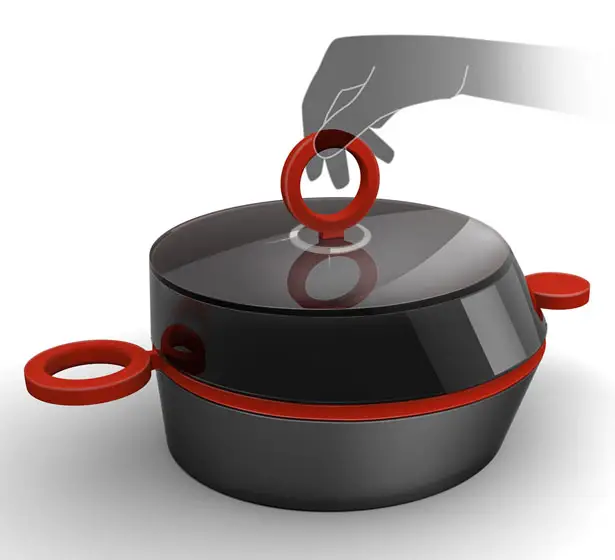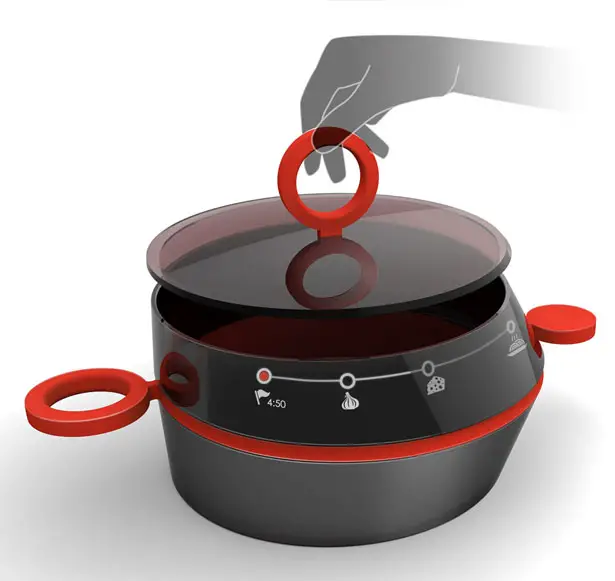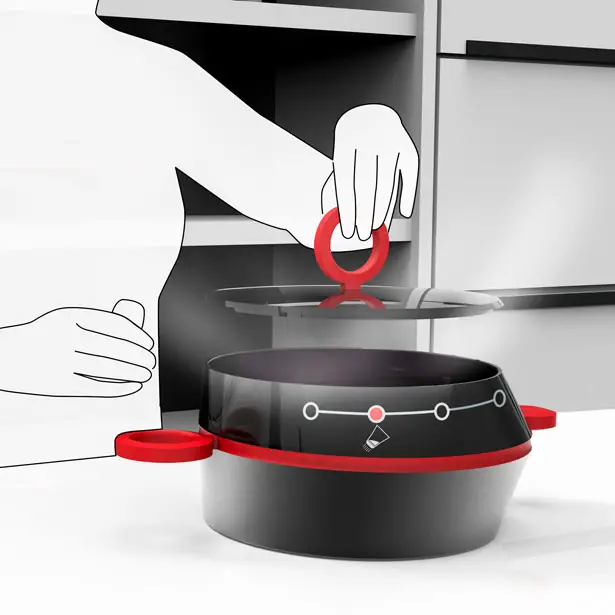 ---
To all paper book lovers, Bookmark Dictionary is going to be very handy. Some people think that in the end, e-book is going to kill the printed book. Apparently that opinion didn't stop Raghunath Dhayalan, an industrial designer, to design this innovative gadget. Most readers don't like the idea of stop reading when they come across a new word they don't understand. Stopping in the middle might spoil their focus on the story for awhile. Usually they skip new words and continue to read or make a note on bookmark to search the meaning for those new words later on.
Bookmark Dictionary brings our traditional dictionary in the form of sleek electronic gadget. It has a sensor for capturing the image and highlights words on the book. The touch screen enables the reader to find the meaning of a word in just seconds. This gadget features inbuilt speaker to pronounce the word and a scientific calculator. The sleek body design makes this dictionary can be used as a bookmark.
Designer : Raghunath Dhayalan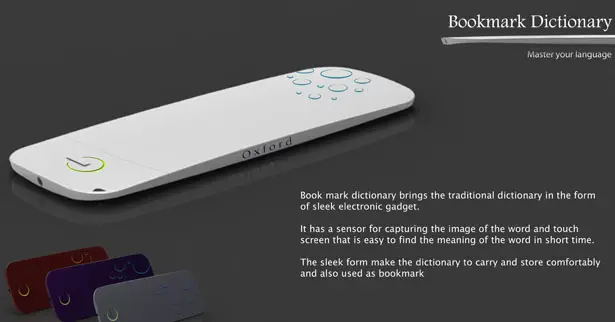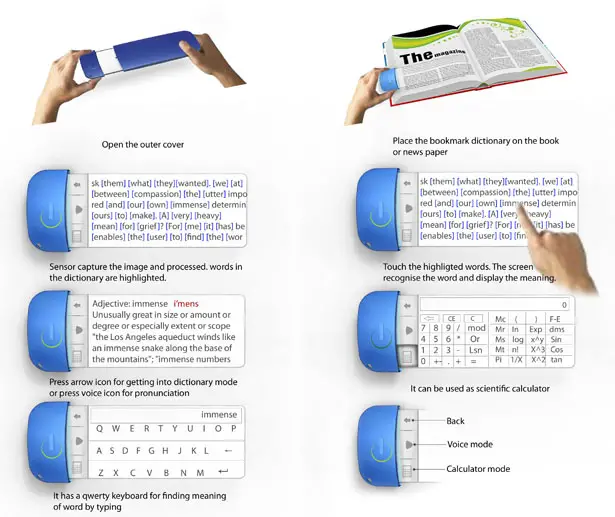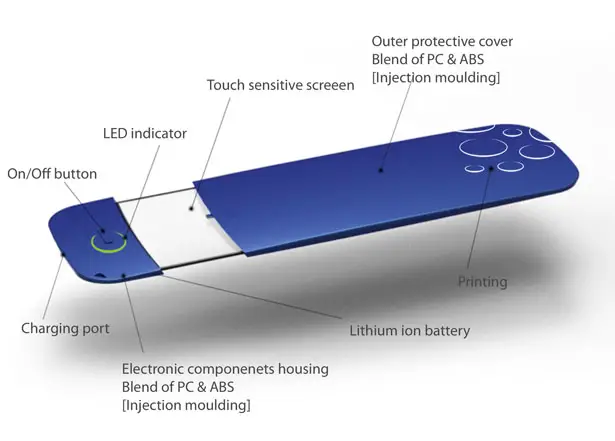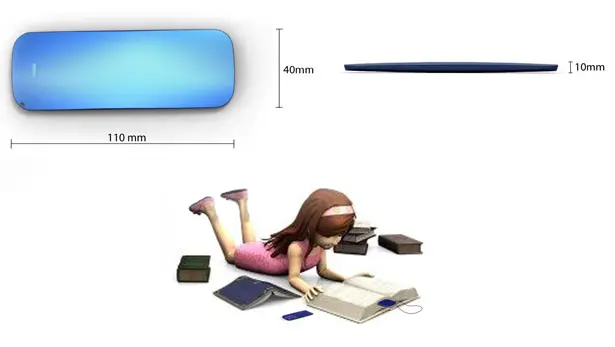 Tuvie has received this project from our 'Submit A Design' feature, where we welcome our readers to submit their design/concept for publication.
---
Moore and Giles Sidecar Bar Cart is the result of collaboration between Jim Meehan and Moore & Giles. This bar cart features world class bar design with timeless aesthetics due to the use of traditional woodcraft. The harmony between a water jet cut aluminum frame and Virginia black walnut creates durability for decades of use. The butcher block-like bar top is sealed to prevent stains with a shallow reservoir as its border to contain any spills.
The tabletop is framed by 2 shelves padded with leather to muffle the sound and protect surface from wear and tear by repeated use of up to 6 bottles stocked on each end. These shelves are ergonomic and help to speed up service without compromising accessibility. There are built-in caddies located below the serving trays.
Designers : Moore & Giles and Jim Meehan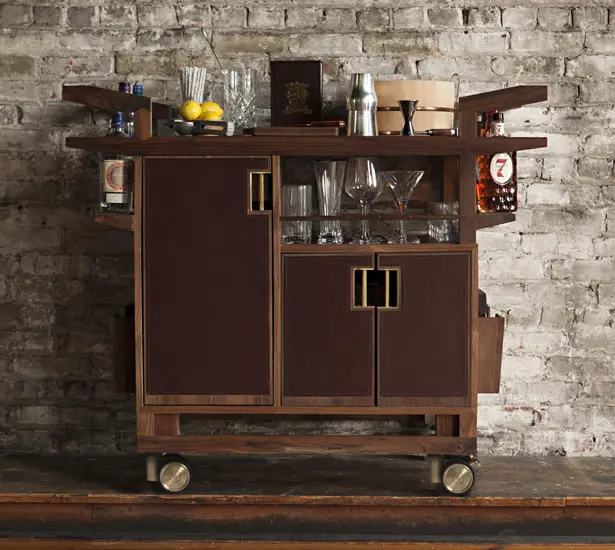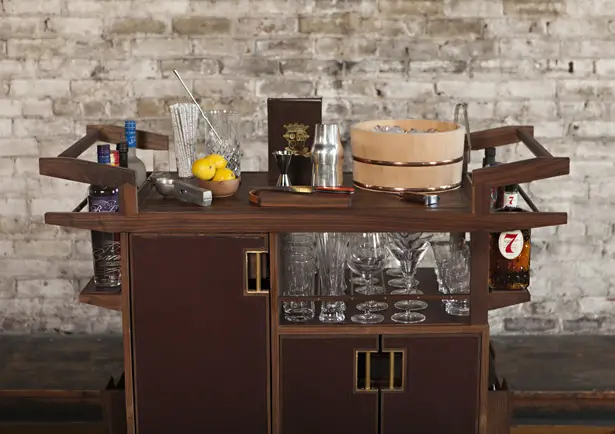 The leather-matted low cabinet can be used to store backup bottles or any other tools while the long cabinet is used to keep a handmade brass-bound wooden bin. The bartender can use it to dispose watery service ice. Coasters, books, or bar tools can be placed inside shallow drawer above that long cabinet.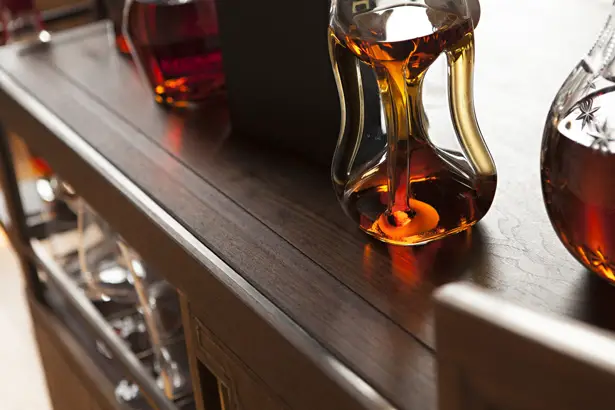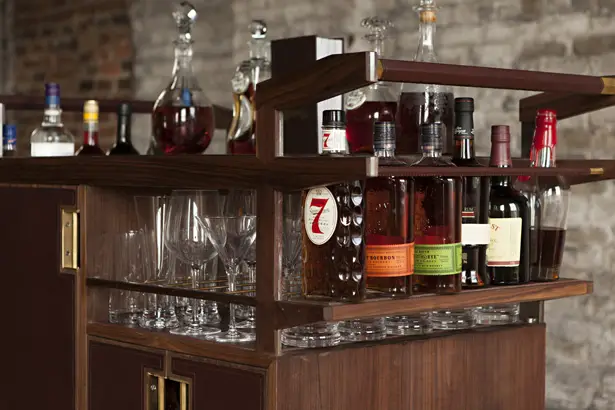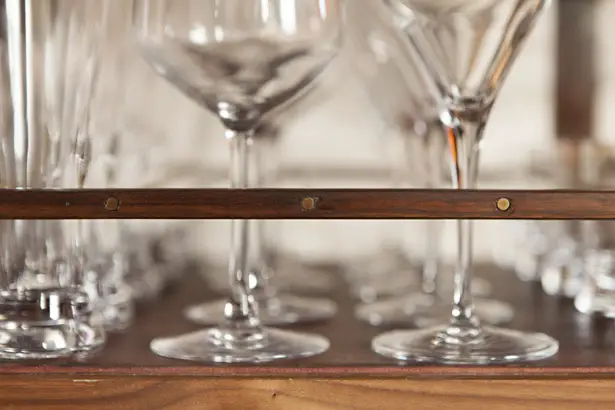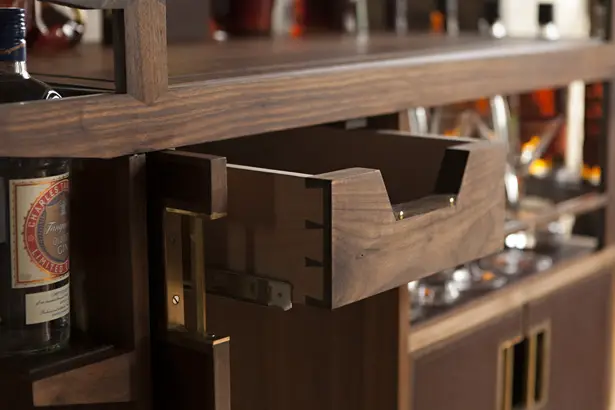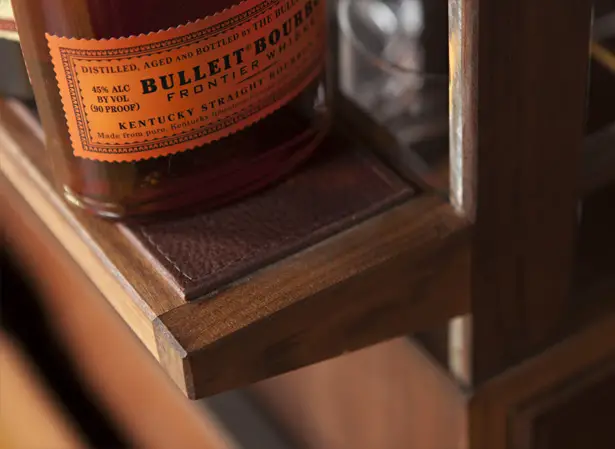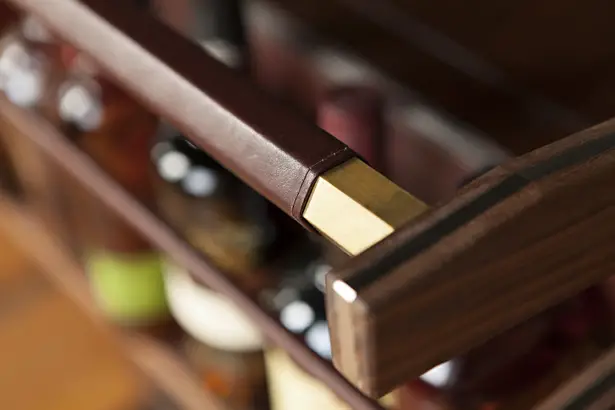 Sidecar's feet are equipped with precision-turned casters which are fabricated for concert grand pianos. These casters are made out of solid brass, wrapped with a protective coating to protect delicate floors.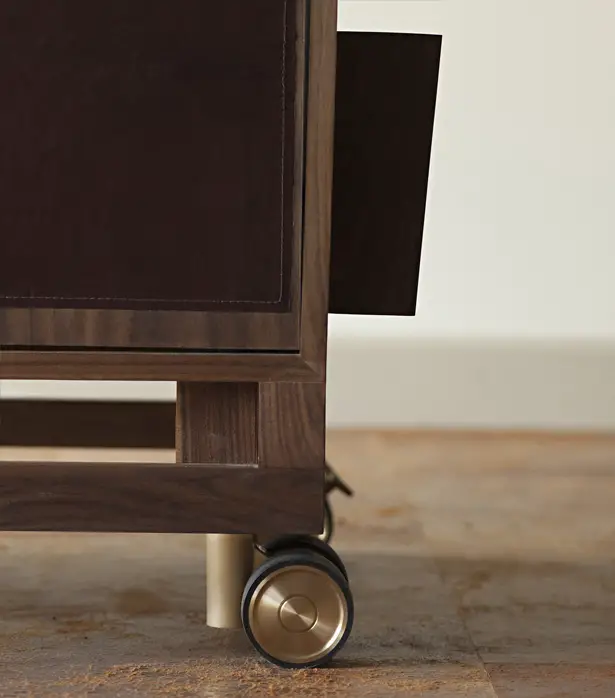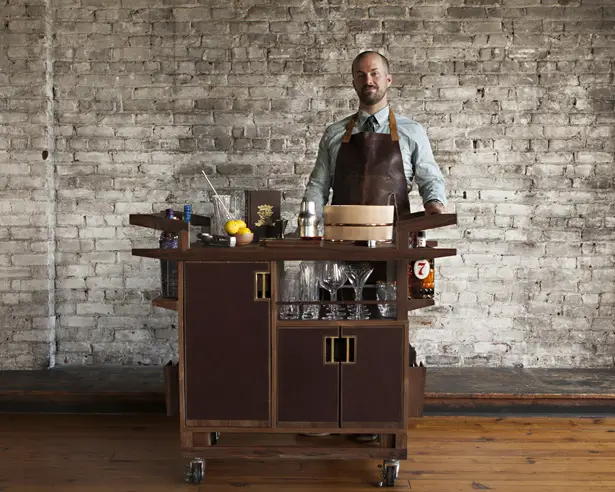 ---