Samsung has become the pioneer of world's first curved display smartphone with its latest product, Samsung Galaxy Round. Yes, it's official now, you can find this flexible screen innovation is combined with innovative design features as well. The curved body of the smartphone is pretty sleek and thin with only 7.9mm thick and 154g, comfortable to hold as you grip it in your palm. User can enjoy 5.7-inch full HD super AMOLED display along with round integrated experiences such as Gravity Effect that creates visual interaction by tilting the device.
Even thought the screen is pretty large, Samsung Galaxy Round features useful one-hand operation to allow user to control everything easily from one preferred side of the screen. Larger screen means better multitasking capabilities, you can run multiple applications on one screen, share content between them, and utilize Multi Window feature.
From : Samsung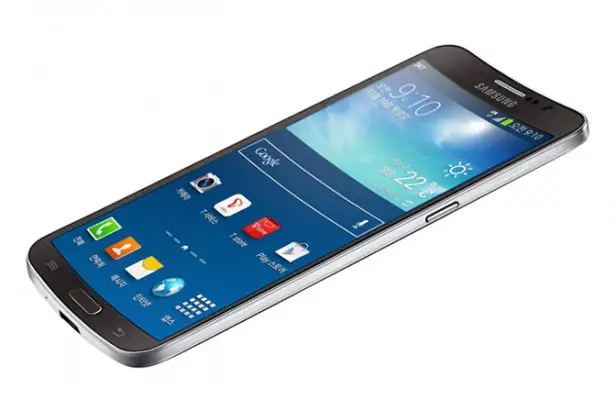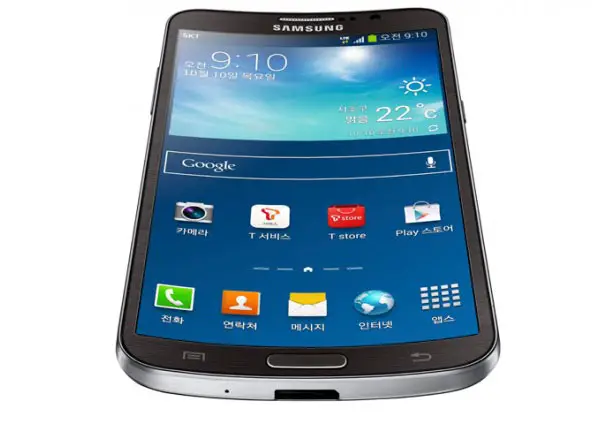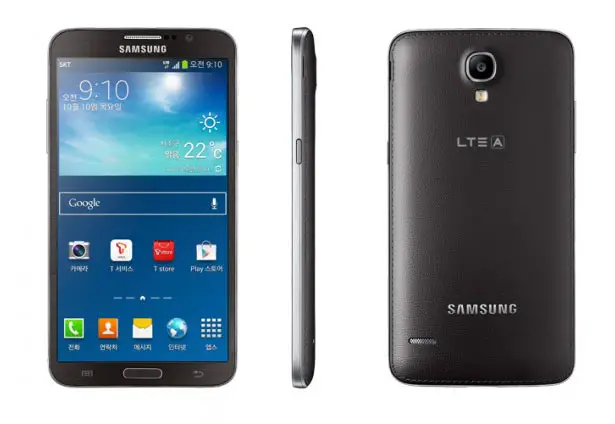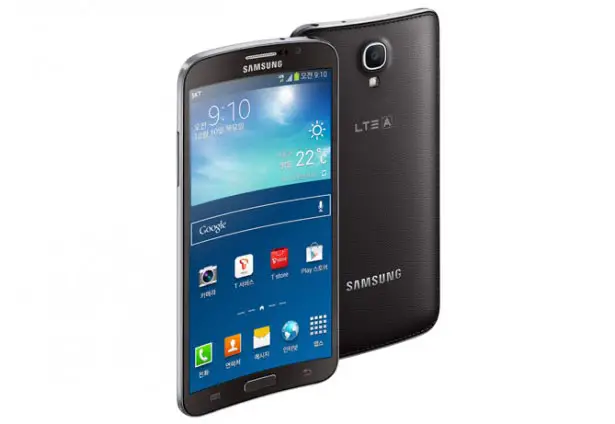 ---
Chocolate is psychoactive food, it's my ecstasy, unfortunately chocolate tastes best when stored in a cool place. It would be hard to taste chocolate at its best if we don't keep it in a room with temperature between 54° F to 68° F. For all chocolate lovers to enjoy chocolate on-to-go, they'll have to carry the chocolate in a way to keep it from melting, it's pretty hard to do especially if you are hikers and travelers. To solve this issue, Choc Mate, a thermos for chocolate has been designed by Cameron Snelgar.
Designer : Cameron Snelgar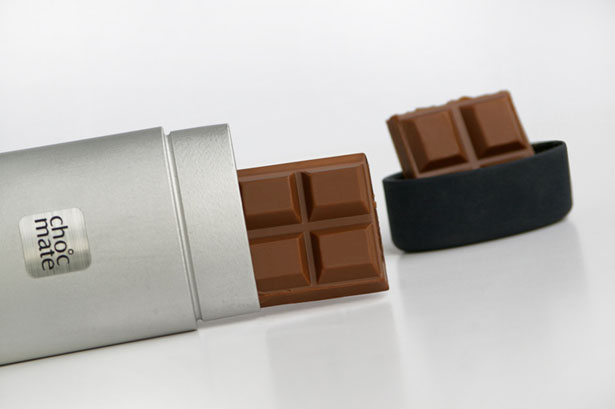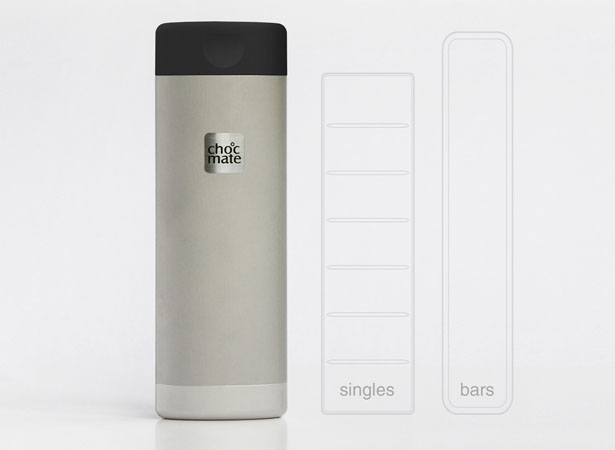 Choc Mate transforms your traditional stainless steel thermos vacuum flask that you usually use to keep liquids into a thermos for chocolate. It protects your precious chocolate blocks and bars while maintaining the ideal temperature to keep the chocolate at its best. The compact shape and size makes Choc Mate an ideal container to carry around, you can slide it in and out of your backpack or purse with ease, plus it's really comfortable to hold.
The body of Choc Mate is an elliptical cylinder, this form body design is the result of a fine balancing act between having enough room for the vacuum sealed wall space and catering to different sized chocolate while being compact. The silicone lid on top functions as a seal as well as a soft grip for easy access when you reaching this thermos in your backpack or purse. It would be great to have this concept Choc Mate commercially available, but for now, you just have to eat you chocolate before it melts.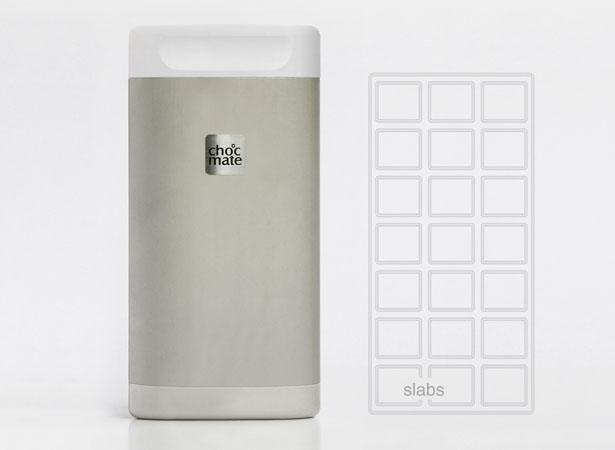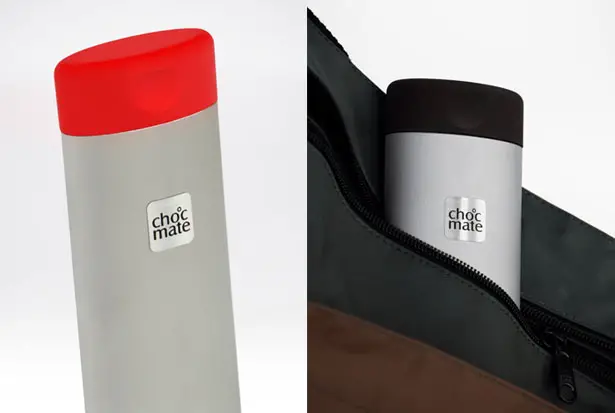 ---
X1 Water Bike is the latest product of Schiller Sports that deliver the most advanced water bike in the world yet. Each unit is constructed out of anodized aluminum, stainless steel, and a proper propulsion and steering system with rugged, inflatable pontoons for easy transport.
The company promises to always try to revolutionize water sports and cycling industries, X1 is an example of state-of-the-art engineering and design. Schiller aims to allow millions of people around the world to enjoy dynamic and safe biking experience on water, something that has virtually no learning curve, it's a new sport as well as recreational activity. This water bike was born out of all-star team of engineers, designers, and craftsmen who are teamed up to invent something that we've never seen.
From : Schiller Bikes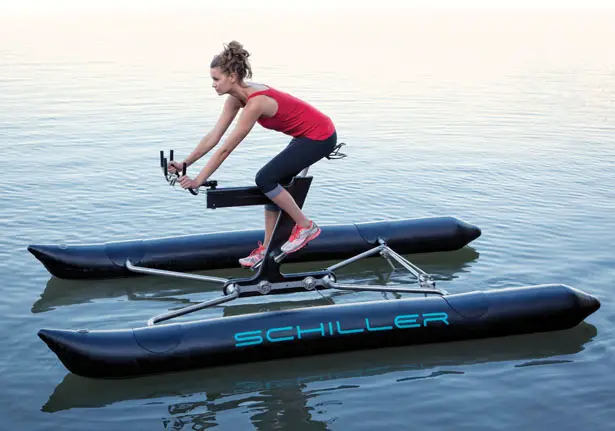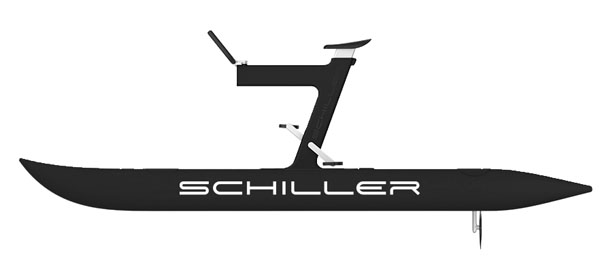 The design of X1 Water Bike features bold colors, striking curves, and precision engineered parts. Its drive train utilizes Gate carbon drive belts, flexible shafts, and twin oscillating propellers that allow it to move left and right, there's no need for a wheel. The dual chamber, inflatable pontoons offer maximum rider safety on water. Depending on rider ability, this water bike is able to achieve a speed of 8 knots/hour or 10 miles/hour. This bike is not just a concept, it's actually available online, just prepare for about $6,500 to own 1.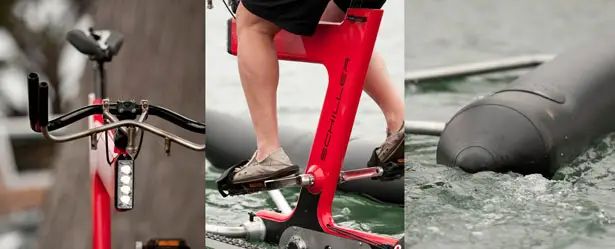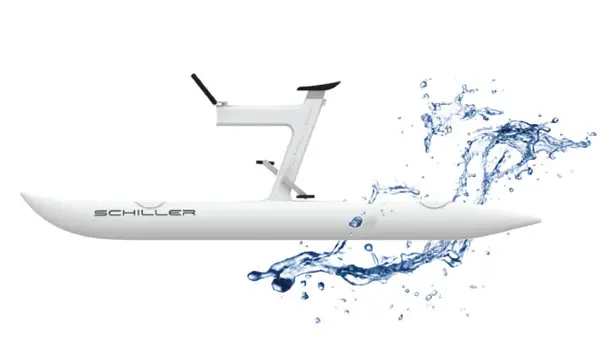 ---